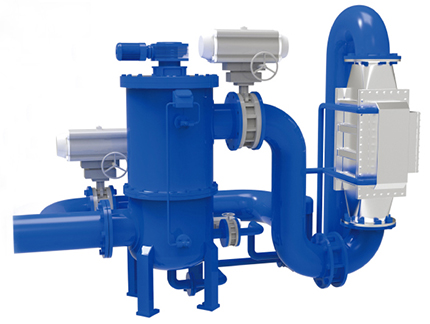 Seascape-BWMS is a combined treatment system which takes advantage of filter and EPT (Enhanced Physical Treatment-UV/US) unit. It is most environmental friendly and optimally designed for every type of vessels. Adopting a pure physical treatment technology, Seascape – BWMS effectively disinfects harmful aquatic organism and pathogen in water without generating any toxic substance during ballasting and de-ballasting process. Seascape BWMS when compared with chemical technology:
Safe and reliable due to chemical free operation. Chemical technology produces harmful chemicals, such as H₂ and Cl₂ which is a potential risk to vessels and personnel; while Seascape- BWMS utilizes pure physical technology and is completely environmental friendly.
Highly efficient and fits all vessel types. Chemical technology needs a long holding time to disinfect organisms in ballast water, which limits its application during short voyage. And for Seascape- BWMS, there is no salinity limitation and no need of holding time.
Simple structure and easy operation. Concentration of Total Residual Oxide (TRO) needs to be detected in chemical technology, which is different from physical technology
Low cost and economical maintenance. A high maintenance cost would be necessary for chemical technology, while it only need to replace UV lamps for Seascape-BWMS.
Seascape BWMS compared to other physical technologies:
Higher treating efficiency & low power consumption. Seascape-BWMS owns an US device to clean quartz tubes and enhance treating efficiency, which makes the system much smaller and have the lowest power consumption compared with other systems.
No additional cleaning units needed. Due to the application of US device, no other cleaning units are needed in the system,
High intelligence design can achieve one-button automatic operation and failure alarm/solution function.
Modular systems can be installed between existing pipelines to take full advantage of space, which fits all kinds of vessels.
Treatment process
BALLASTING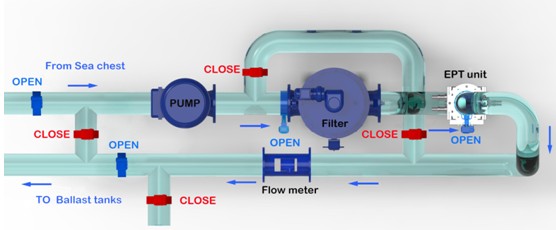 During ballasting process, ballast water firstly passes through a self-cleaning filter for filtration of big microorganism. The filtered ballast water then passes through an EPT chamber where UV light is used to disinfect the water prior to entering the ballast tank.
DE-BALLASTING

During De-ballasting process, ballast water is pumped from the ballast tanks back through the EPT disinfection chamber for final treatment before being discharged overboard. The filter is bypassed during de-ballasting.
FILTER UNIT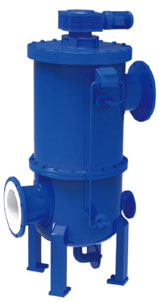 During uptake ballast water passes through an automatic self-cleaning filter. The filer removes particulates, sediments, zooplankton and phytoplankton over 40 microns. Automatic back flushing ensures and maintains filtration precision, which can achieve high working efficiency in the waters of high turbidity.
During the back-flushing cycle the filtered water is not interrupted and continues to flow downstream of the filter in the normal manner.
High UV transmission
Low inflow of sediment
Low pressure drop
Automatic back flushing
Treating capacity 50-6000 m³/h
Applies to process in the waters of high turbidity
EPT UNIT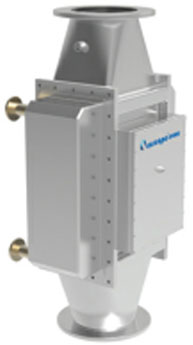 UV (Ultraviolet) radiation is to disinfect water efficiently and safely. UV technology is easy to operate and needs no expensive and potentially hazardous chemicals. US(Ultrasound) device is combined with UV radiation to penetrate cell membrane and cell wall to assist UV in destroying DNA and RNA of the microbes, affecting synthesis of enzymes and protein in the cells caused by variation, with the result of cell's death due to abnormal metabolism. What's more, US (Ultrasound) device can clean the quartz tubes, preventing bio-fouling to control the accumulation of residue on lamp sleeves and ensuring maximum UV transmission at all times.
UV dose can be monitored continuously and adjusted automatically by PLC (Programmable Logic Controller) and light intensity sensor to fit all kinds of water of different turbidity in order to achieve maximum treatment efficiency. An extra level senor and a temperature sensor provide additional insurance of safety.
No active substances nor toxic by-products
No corrosion problem
Self-cleaning ( No CIP)
Long life & High efficiency
Easy maintenance and operation
Capacity 50 - 6,000 m³/h
ELECTRICAL POWER SUPPLY TANK & CONTROL MONITORING CABINET
Control unite is PLC (Programmable Logic Controller) based and configured, which can make local control achievable. The real time network communication protocol can also be used to integrate Seascape® – BWMS with other automatic control systems on board, providing access to all Seascape® - BWMS functions through the vessel's standard interface
On line data display
Touch screen operation
Alarm function
Data record for at least 24 months
Controller: Siemens PLC
Human machine interface system
SPECIFICATIONS
Type

Rated Capacity (m³/h)

Power Consumption (Kw)

Contour Size

Filter
(ɸ x H)
EPT Unit
(L x W x H)
Power Cabinet
(L x W x H)
Control Cabinet
(L x W x H)

Seascape – 150 -BWMS

150

9 -18

600 x 1782

295 x 200 x 720

400 x 700 x 1700

560 x 230 x 670

Seascape – 250 -BWMS

250

12-24

600 x 1783

295 x 200 x 1100

450 x 680 x 1700

560 x 230 x 670

Seascape – 300 -BWMS

300

18-36

600 x 2058

295 x 200 x 720 x 2

450 x 680 x 1700

560 x 230 x 670

Seascape – 500 -BWMS

500

24-48

700 x 2142

295 x 322 x 1100 x 2

450 x 680 x 1700

560 x 230 x 1000

Seascape – 600 -BWMS

600

24-48

700 x 2412

395 x 300 x 920

450 x 680 x 1700

560 x 230 x 1000

Seascape – 800 -BWMS

800

32-64

900 x 2588

395 x 400 x 920

450 x 680 x 1700

560 x 230 x 1000

Seascape – 1000 -BWMS

1000

48-96

900 x 2589

595 x 400 x 1120

630 x 680 x 2140

560 x 230 x 1000

Seascape – 1200 -BWMS

1200

48-96

1100 x 3084

395 x 300 x 920 x 2

530 x 680 x 1950

560 x 230 x 1000

Seascape – 1600 -BWMS

1600

64-128

1100 x 3085

395 x 400 x 920 x 2

630 x 680 x 2140

560 x 230 x 1000

Seascape – 1800 -BWMS

1800

72-144

1300 x 3636

395 x 300 x 920 x 3

560 x 680 x 2140 x 2

560 x 230 x 1000

Seascape – 2000 -BWMS

2000

96-192

1300 x 3637

595 x 400 x 1120 x 2

630 x 680 x 2140 x 2

560 x 230 x 1000

Seascape – 2400 -BWMS

2400

96-192

1500 x 3893

395 x 400 x 920 x 3

530 x 680 x 2140 x 2

560 x 230 x 1000

Seascape – 3000 -BWMS

3000

144-288

1500 x 3894

595 x 400 x 1120 x 3

630 x 680 x 2140 x 3

560 x 230 x 1000