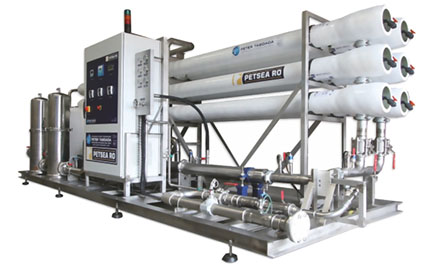 The PETSEA RO reverse osmosis water purification systems have been designed to obtain high quality purified or ultra-pure water. They are designed to resist the hardest -24 hours operation conditions- continuous working in marine and industrial environments and are able to produce the highest water quality standards either for the human consumption, food industry or hospital uses.
ONE SYSTEM FOR EACH NEED
The PETSEA RO systems are expandable and highly versatile being manufactured to each specific need, as they have pumps and hydraulic equipment that permit the installation of extra membranes to increase the water production without lowering the performance to the system. Either the sea water equipment (SW) or brackish (BW), well or tap water equipment (TW), there is a wide range of products that go from our standard line up to the industrial line designed under the client specifications.
SW SEA WATER
SW-Y: Compact series (de 500 a 15.000 l/day)
SW-S: High quality system (500 a 15.000 l/day)
SW-L: Membrane cleaning system series (de 15000 a 80000 l/day)
SW-RE & SW-TR: Systems with recovery energy system
SW SEA WATER SPECIAL SYSTEMS
SW DUPLEX: System double –sand filter composed SW-D
SW-CL: Container system
SW-LA: Building depends on customer queries
SW-P: Portable systems – fresh potabilizing water
SW-MIL: Special systems modified according to military specifications
SW-MT: Membrane Test System
TW TAP WATER
TW-SLIM: Ultra compact design reverse osmosis system for high production
TW-Y: Economic
TW-S: Standard
TW-L CONT/ADAP: Manual membrane cleaning. Big productions
TW-H: Water treatment for haemodialysis
SW-Y Compact series (de 500 a 15.000 l/day)
COMMON SPECIFICATIONS FOR ALL MODELS
Minimum Salt Rejection: 99.4%
Sea water pressure: Minimum 1kg/cm²
Maximum operating pressure: 70kg/ cm²
Maximum feeding pressure: 6kg/ cm²
Seawater temperature: Minimum 10°C Maximum 30°C
Maximum seawater salinity: 40,000 ppm tds
Pre-filtration: Up to 5 micron particles (optionally up to 1 micron)
Models specifications
SW-Y SERIES
PRODUCTION 
(Based on38.000 PPM, 18/25ºC, 65 bar)
POWER approx.
CONNECTIONS
NOISE LEVEL (A)
DRY WEIGHT approx.

5/6
10/12

500/600
1000/1200 l/d

2Kw

Feeding ¾"
Rejected 3/8"
Water production: Drinkable 1/8"
Undrinkable ¼"

78 db

50kg

10/18
20/34
30/52

1000/1800
2000/3400
3000/5200 l/d

2,2 kW

Feeding ¾"
Rejected 3/8"
Water production: Drinkable 1/8"
Undrinkable¼"

78db

64Kg

40/50
60/80

4000/5000
6000/8000 l/d

3,0 kW

Feeding 1/2"
Rejected 3/8"
Water production: Drinkable 1/8"
Undrinkable¼"

83db

100Kg

45/55
80/90
110/120
130/150

4500/5500
8000/9000
11000/12000
13000/15000 l/d

5,5 kW aprox.

Feeding 1"
Rejected 1/2"
Water production: Drinkable 1/4"
Undrinkable 1/4"

83db

150Kg

200

20000 l/d

7,5 kW aprox.

Feeding 1"
Rejected 1/2"
Water production: Drinkable 1/4"
Undrinkable 1/4"

86db

180kg